Firstrade Review
Commissions

Platforms

Executions and Routes

Customer Service

Research and Tools
Summary
Firstrade.com is an online discount brokerage that offers competitive rates and promotions for traders and investors. This website offers access to trading in stocks, options, exchange traded funds (ETFs), mutual funds and bonds as well as servicing of retirement plans.
About Firstrade
Firstrade.com is an online discount brokerage offering competitive rates and promotions for traders and investors. The polished site offers access to trading in stocks, options, exchange traded funds (ETFs), mutual funds and bonds as well as servicing of retirement plans. The tools are simple with smooth navigation.
Launched in 1985 in Flushing, New York, as First Flushing Securities to provide brokerage services, the company was renamed First Trade Securities, Inc. in 1997 and launched Firstrade.com as an online discount broker. The service offers online and mobile trading platforms and provides Chinese versions to accommodate Mandarin and Cantonese speaking customers.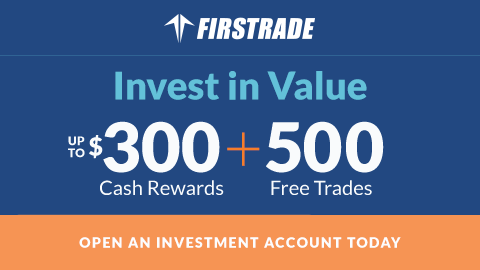 Commissions and Fees
There are no software fees or account maintenance fees, which is nice. The commissions are straight forward on a per-trade basis order and executed online. Broker assisted orders are charged at $19.95 for stocks/ETs/no-load mutual funds and options with an additional $0.50 per-contract. These following are commissions for online trades.
Earlier in 2018, when we initially wrote this review, stock trades were $2.95 per-trade with unlimited shares and options were $2.95/trade + $0.50/contract.
As of August 23, 2018, Firstrade is now offering free trades for both stocks and options, similar to companies like Robinhood and TradeZero. As we've seen with other brokers, "free" isn't always "free." It can come with a cost. Many "free" brokers receive payment for order flow, which can lead to worse executions for clients. While this may not affect many casual traders and investors, highly active traders tend to prefer direct access brokers.
We've yet to see the impact of Firstrade's shift to $0 commissions. Time will tell whether or not Firstrade can use this approach to compete with powerhouses like Etrade and TD Ameritrade.
Promotions
Firstrade.com regularly offers competitive special promotions to new customers. They offer 500 free trades to new customers with a $2,000 minimum deposit, then add on a $100 cash bonus incrementally for new accounts opening with $25,000, $50,000 and $100,000 minimum deposits, respectively. They have been known to offer upwards of $900 in cash rewards at times so it's best to check on the promotions on the home page regularly.
Platform Options and Features
Firsttrade has a well-designed online platform accessed through the website. The platform is an easy one-stop shop for all trading and investing needs. Traders can use the more powerful Navigator for in-depth tools and features or use the basic tab-menu based website investor center. The mobile app is useful for on-the-go access to your account and trades away from the desktop.
Firstrade Navigator
The Navigator is an HTML-based platform accessed through the website. It has a solid arsenal of integrated tools to help streamline many tasks onto a single screen. Users can pick various widgets like watch lists, news feeds, scanners, charts and place them on to a customizable workspace. I like the simple Gains/Loss and Cash Vs Holdings meters that give me a quick status of buying power and performance metric.
The advanced charts include over 50 indicators including candle sticks, various moving averages, volume bars, momentum oscillations and Bollinger Bands. Colors and time frames can be configured to suit your specifications. Charts can be popped out for better viewing as well enabling multiple charts and time frames for better price action interpretations.
Order entry is basic with market and limit orders. Since there is no level 2 data, point-and-click active traders may it a bit time consuming. However, swing traders that use a wider time frame without the need for quick trades are better suited.
The Navigator platform is suitable for traders who want to stream real-time data including news, quotes and charts with account information including a profit and loss blotter all on a single page complete with order entry and execution features. There is no refreshing or updating needed.
Firstrade Investor Center
The Investor Center is accessed off the homepage. The various online tabs let you access various services from placing trades to research and retirement planning. There is also an education section with good learning content, especially for newer traders. Order entry is basic with selections to buy, sell, buy to cover for stocks.
The Investor Center is best suited for new users and especially for less time-sensitive tasks like research and scanning. Swing traders and active investors will appreciate the smooth navigation and depth of functionality for the online investor center.
Firstrade Mobil App
The Firstrade mobile app (iOS and Android) is well designed, clean with simple buttons and menus to get market data, account balance, position and value information. Users can place stock and options trades right through the app as well as retrieve news and research. I like the convenience and flexibility of accessing my portfolio and having advanced charting on my phone anywhere I go.
Margin and Leverage
Firstrade allows margin trading with at least $2,000 USD of account assets. Accounts that meet pattern day trading (PDT) requirements with capital above the $25,000 USD balance are grated 4-to-1 intra-day buying power and 2-to-1 margin on overnights for U.S. residents.
I like the margin requirements window that updates for each stock you may trade. This little feature is extremely useful when short-selling volatile stocks. Other brokers may change margin requirements without notifying users causing short squeezes as they try to cover.  Biotech stocks are notorious for this. Moral of the story is always pay attention to the margin requirements on every stock you trade.
Firstrade Research and Tools
Stocks and ETFs Screener lets you sort out potential trades and longer term holds based on many diverse financial ratios and metrics like P/E, price/book, price/cash flow, debt/total capital. I personally like to scan for undervalued stocks trading at or below cash flow. This can be accessed through the Investor Center.
Customer Service:
Firstrade customer service can be reached via chat, e-mail or live phone support M-F 8am to 6pm EST). They have a 24-hour AI chatbot named Sammi.
Executions and Routing
Firstrade doesn't offer direct order access routing for customers. Routing is handled internally.
Borrows and Locates
The borrows have been impressive for most widely held stocks. Customer service is quick to find locates when requested.
Notable Benefits
Firstrade.com allows for international accounts for non-U.S. residents. They offer services to residents of Japan, France, China, Singapore and the United Kingdom. International accounts must be funded in USD and applications must include a completed W-8 BEN Form, which are available on the site. Chinese versions of the site are available along with live customer service for Mandarin and Cantonese speakers.
What Type of Trader is Firstrade Best For
The simplicity of the features and navigation of Firsttrade.com, makes it a good starting online brokerage for new traders, international traders, swing traders and self-directed investors. Traders who trade large blocks will enjoy the unlimited share flat-rate $2.95 commissions, especially when trading intra-day. There is no direct-access routing so the fills may be tricky.
Pros:
Cheap commissions for unlimited shares per trade

Easy and clean navigation of services through website and platform

Powerful mobile app means you can leave your computer screens at home

Good fundamental stock screener for swing traders and investors

Good margin requirement window updates changes to avoid getting squeezed

Great customer service
Cons:
Web-only access platforms can be a resource hog for slower systems

No direct order routing